University of Oslo: Stata GradPlan Prices
As part of the site license agreement that University of Oslo has, GradPlan prices are available for faculty and staff. When ordering, you need to specify an invoicing address and/or email address to this units. Students can also order Stata with discounts, see heading "Stata for Students"
Through the GradPlan you can purchase new Stata single-user licenses.
Which Stata is right for me?
Stata/MP: The fastest version of Stata (for dual-core and multicore/multiprocessor computers)
Stata/SE: Stata for large datasets
Stata/IC: Stata for moderate-sized datasets
For more information, please follow the links below:
Detailed feature description
Most computers purchased since mid 2006 can take advantage of the advanced multiprocessing of Stata/MP. This includes the Intel CoreTM 2 Duo, i3, i5, i7, and the AMD X2 dual-core chips. On dual-core chips, Stata/MP runs 40% faster overall and 72% faster where it matters, on the time-consuming estimation commands. With more than two cores or processors, Stata/MP is even faster. Stata/SE, Stata/IC, and Small Stata differ only in the dataset size that each can analyze.
Stata/SE and Stata/MP can fit models with more independent variables than Stata/IC (up to 10,998).
Stata/IC allows datasets with as many as 2,047 variables. The number of observations is limited only by the amount of RAM in your computer. Stata/IC can have at most 798 right-hand-side variables in a model.
All the above flavors have the same complete set of commands and features and include PDF documentation.
| Package | Max. Var. | Max. Ind. Var. | Max. Obs. | 64-bit vers. Available? | Parallel processing? | Platforms |
| --- | --- | --- | --- | --- | --- | --- |
| Stata MP | 32,767 | 10,998 | unlimited* | Yes | Yes | Win Mac (64-bit Intel), Unix |
| Stata SE | 32,767 | 10,998 | unlimited* | Yes | No | Win, Mac, Unix |
| Stata IC | 2,047 | 798 | unlimited* | Yes | No | Win, Mac, Unix |
*The maximum number of observations is limited only by the amount of available RAM on your system
×
MULTICORE PERFORMACE COMPARISON
MP licenses can be used on both 32 - and 64-bit computers, but they only go faster if your computer has the same number of processors – i.e. MP2 will work more efficiently only if the computer has 2 processors. As you can see from the following graph, a MP (2 cores) is considerably faster than an SE.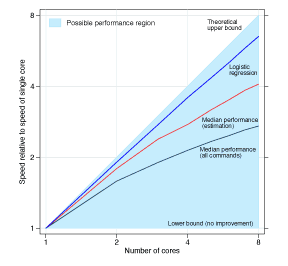 ×